CUD Students Enjoy a Vibrant Community Life 
Canadian University Dubai (CUD) offers quality higher education excellence which is blended within an engaging campus life to award learners with an enriching educational experience.  The avant-garde campus is home to over 120 nationalities – the foundation to a thriving multi-cultural and diverse learning journey.
CUD inspires learners to explore their interests through social and recreational activities which are geared to progress creativity, innovation, interpersonal and leadership skills.  The objective is to equip students with a well-rounded university journey – tailored to provide pathways of development and opportunities aspired towards a successful career.
"CUD's vibrant campus is in the heart of Dubai.  When I enter CUD's building, I feel the positive energy."  Majed Belselah Finance and Accounting Student at CUD
The student-centred university buzzes with activities from several clubs, performances, cultural events, as well as prominent external initiatives – to facilitate dynamic scholar and business networking communities. These participations encourage academics to master existing skills and to explore new capabilities – transforming each student's portfolio and future.
Why Study in Dubai?
CUD is in the heart of Dubai, at City Walk. Dubai is one of the fastest growing cities in the world. Its economy is accelerating - life is enjoyed by thriving multi-ethnic expatriate and student communities. The cosmopolitan city makes it an attractive choice of city for many. Dubai is rapidly transforming into a technology-driven, global digital capital. And moreover, is one of the safest cities in the Middle East.
An abundance of activities in Dubai attracts many expats and tourists from around the world – entertainment, beautiful beaches, an array of fine cuisine, and a wide range of adventures: water sports, parachuting, 4X4 dune bashing, camel riding, waterparks, skyscrapers and more...
"When I have free time, it is great to meet up with my friends at the campus – it sings with fun and engaging activities. I joined the Football Team. There is so much to do – I enjoy the music room, podcast facility, and pin-pong festivities." Ahmad Masri, Psychology Student at CUD
Many spectacular events take place in Dubai which celebrate global innovation and achievements. The vibrant student life at CUD and in Dubai is extended into CUD's notorious annual graduation ceremonies. The university has continuously set a precedent in the realm of higher education as the first university to celebrate the commencements in extraordinary ways.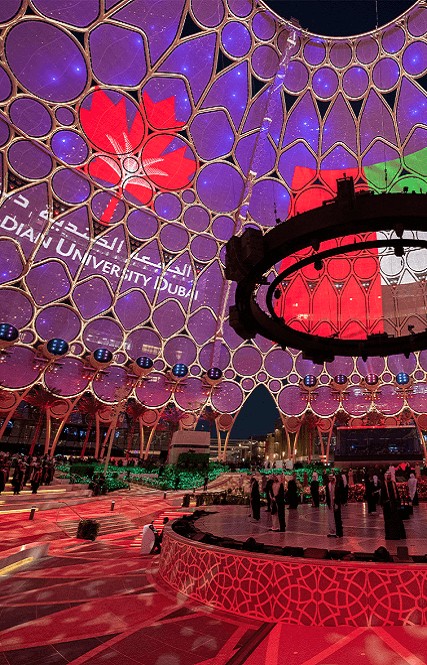 2021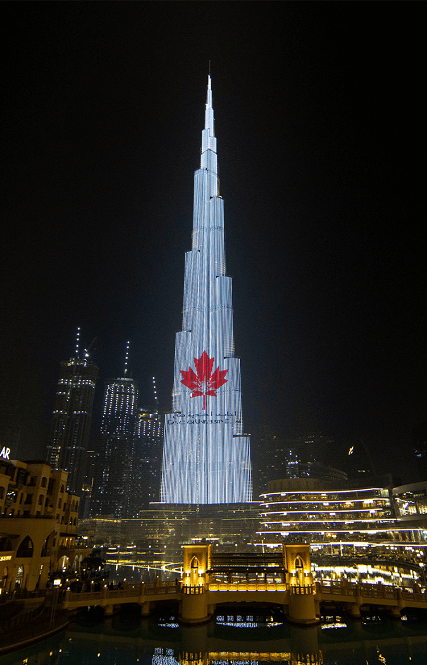 2020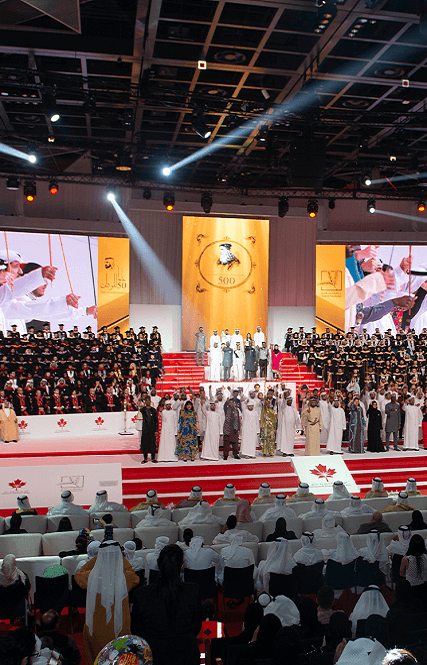 2019
2018
Great pride has been taken to pioneer astounding graduation ceremonies: the prestigious Dubai Opera (2018), Dubai World Trade Centre (2019), the world's tallest building Burj Khalifa (2020), and recently at the Expo 2020 Dubai (2021).
CUD is one of the leading choices for many students pursuing their higher education in Dubai – to obtain a world-class Canadian education and simultaneously thrive and advance throughout a fulfilling learning adventure.
Shaping champions for the future.
Read About Recent Student Adventures: